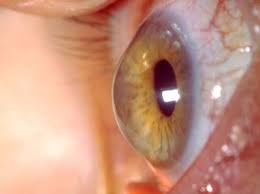 Mar
31
Your Options for Managing Keratoconus
March 31, 2017
0 Comment(s)
The treatment for keratoconus has expanded dramatically since I graduated as an optometrist. As a young person today, chances are your keratoconus will not advance to the stage your parents did 10 years ago. From a functional perspective, these steps forward are extremely encouraging for someone like me that specializes in treating irregular corneas.
Optical Treatment Options
Keratoconus can be treated with any of the following modes depending on the stage of keratoconus and your needs:
Spectacles, in my opinion, should be the first option depending on the corneal irregularity.
Contact lenses have advanced over the past 10yrs and there are several options for irregular corneas:

Rigid gas permeable lenses of various designs.
To improve the comfort of these lenses on the eye your optometrist might consider piggy backing the lens to increase the comfort.
Soft lenses specifically manufactured for irregular corneas. For example, KIC from the UK or Novakone from the USA.
Hybrid lenses which have a softlens on the periphery and a hard lens in the centre. These provide good vision comfort and stability.
Scleral lenses, which have recently been redesigned, are larger lenses which fit on the white of the eye giving sometimes excellent vision and comfort.
There is no perfect lens. All lenses have pros and cons. Your optometrist will be able to advise you on which type is the best for your condition.
Surgical treatment options
 X linking
This is a procedure which will halt the advancement of keratoconus by increasing the corneal thickness. There are 2 methods: cornea off or cornea on – your ophthalmologist will know which procedure will best work for you.
 Ferrara rings
The are tiny corneal implants which reduce the height of the keratoconic cone and improve the vision. Contact lenses or spectacles might have to be prescribed after the procedure.
 IOL implants
This is a surgical procedure where a contact lens is implanted into the eye in front of the lens.
 Corneal graft
This is a surgical procedure where the cornea is replaced with another cornea.